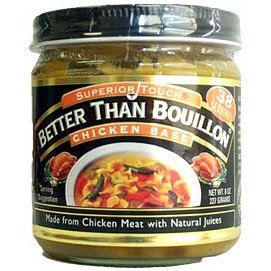 One of my favorite things to cook with is "Better Than Bouillon" by Superior Touch. It is just what its name implies -- better than bouillon. It is a paste instead of dry bouillon. It is concentrated stock made from meat or vegetables which gives it richer, deeper flavor than ordinary bouillon. I mainly use Beef, Chicken, or Vegetable but it also comes in Au jus, Chili, Clam, Fish, Ham, Lobster, Mushroom and Turkey. I haven't found every kind at any store but you can get all of them on line.
I use this soup base in any recipe that calls for broth or stock. It mixes into hot water very simply. Sometimes I add the amount I want straight into whatever delicious thing I am making, without dissolving it in water first.
On a cooking day, when I am making freezer meals, I always figure out how many recipes call for cooked, chopped or shredded chicken. I cook the chicken for these recipes all at the same time in a big pot of water on my stove top. I add a piece of celery, a broken but unpeeled carrot, a quartered onion and a few pepper corns. During the cooking day, as any recipes call for chicken broth, I dip from the broth in the pot from cooking the chicken. If a recipe calls for stock or perhaps needs a bit more of that chicken taste, I add some 'Better Than Bouillon' chicken base.
At the end of my cooking day, if there is any broth left (and there almost always is) I remove the vegetables and peppercorns, add some fresh chopped vegetables (including any left from the cooking day, especially onions and celery) and any chicken leftover from the cooking day. I add some chicken base and some noodles and cook until all is soft. Mmmmmmm......fresh chicken noodle soup to feed the family. Sometimes that's what we have for dinner on a cooking day. Other times I put all of it in containers and freeze it to feed the family later.
Either way, the 'Better Than Bouillon' adds a richness and a deliciousness that's hard to beat!